5 Top Books for Medical Tourism
"Going abroad" is an idea that appeals to all of us. It could be anything - from a business trip, to long vacation to just meeting friends settled abroad - we are all looking for an excuse to explore international destinations.
These two words - going abroad - however take an altogether different meaning when we travel abroad to seek medical aid for our loved one. And when that does happen, we are bound to have a lot of questions in our minds which neither Airbnb nor Time Out can solve.
These questions will revolve around - where should I go? Should I go overseas for medical assistance? Whom should I contact? What will happen when I reach there? Which country, hospitals and facilitators are best for me and why? Will it be too expensive?
Well, don't worry. Just sit back and relax, because these books will answer all your questions, solve all your doubts and help you make a proper decision regarding where you can get a low cost and high quality medical treatment. Every penny that you spend will be a clever choice and it will be utilised in a better manner to get the best you can.
Patients beyond Borders by Josef Woodman

Image Credits: Amazon
Josef Woodman is co-founder of My Daily Health and Ventana Communications. He has a strong background in health, wellness, global health travel, and new developments in the medical care industry.
The author has visited 14 countries within a span of three years to understand the medical facilities available in that country and to research medical tourism.
This book contains all the information a patient needs for visiting another country to seek medical, dental, cosmetic or bariatric treatments and how a patient can save huge amount of money. It will also help you to get the best for your money even if you don't go overseas to get medical attention.
The Medical Tourism Travel Guide by Dr. Paul Gahlinger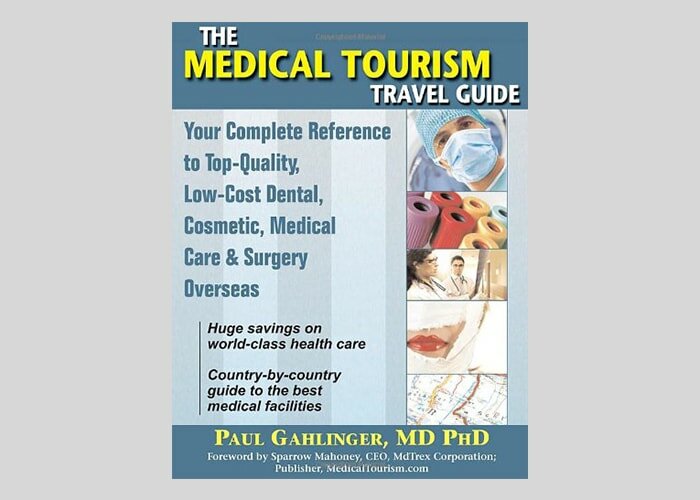 Image Credits: Amazon
Dr. Paul Gahlinger is a physician and professor of medicine and has overseas experience. He has travelled to 120 countries including India, Thailand, Singapore, and Philippines to study and understand Medical Tourism. He has also worked as a doctor in many countries and has been supported by people who have medical tourism experience.
You will find a cross-reference chart in the book for various procedures, also enlisting the top destinations for various procedures. It also contains cost comparison chart of a variety of procedures stating why seeking a medical facility overseas makes sense and presenting smart ways of reducing expenditure.
The book discusses all the countries that offer medical tourism from developing nations to highly developed nations and all things required by a patient seeking medical treatment overseas.
Handbook on Medical Tourism and Patient Mobility Edited by Neil Lunt

Image Credits: Amazon
Auther Neil Lunt is a professor at LSHTM, Professor of practice at McGrill University. He has done a wonderful job by bringing together world's leading scholars and analysts for the handbook.
The book explains why medical travel and patient mobility is important and marks out suggestions for patients as well as the health system. It covers treatment focused discussions on subjects such as patient-decision, patient-experience and the outcome of various treatments - cosmetic, transplantation, dental, fertility and bariatric treatment. The book also covers the regional and global experience on medical travel, including coverage of countries like America, Europe, Middle-East, Africa and Asia.
The depth of information provided in this book is very rich as it is being offered at a time when medical tourism is increasing and gaining importance in chalking out of global and domestic health policy and services.
The Complete Idiot's Guide to Medical Tourism by Patrick W. Marsek&Frances Sharpe

Image Credits: Amazon
This book covers a wide range of information for everyone who is looking for safe, affordable medical care in an exotic location. The book helps you to search high-quality, low-cost medical treatment on basis of years of experience of the author who has helped many patients in going overseas and seeking medical attention.
This book covers the financial advantages and various treatment options available in different countries for those who are willing to get medical care overseas. It also shows how to minimize the risk and find the right country, facilitator, and doctor for a patient's medical treatment.
It explains how to identify a medical facilitator and what to expect from them and what all things a patient needs to take care of and some travel tips.
Patients with Passports by I. Glenn Cohen

Image Credits: Amazon
The author is a Law professor at Harvard and Director of Petrie-Flom Center for Health Law Policy, Biotechnology, and Bioethics. He is one of the world's leading experts on medical ethics, law and health laws.
The author has done an excellent job in slicing our bread thick or thin focusing on patients travelling for various medical treatments to countries like India, Mexico, and Thailand and analyse issues of quality of care, liability, private and public health insurance.
It also covers dynamics of patient flow in various regions. It shares some real life experiences of patients who have gone overseas to seek medical attention. It also marks out ethical, legal and moral obligations of a medical facilitator in assisting medical tourist.
Related Posts: